WHO WE ARE
---
---
Bruiser Industries is a training and consulting company focused on bringing a variety of backgrounds and experiences to the student and community. We believe every well-intentioned individual is born with the natural right to be prepared as best they can to face whatever the future may hold. Our focus is based around an individual's right and duty to be an informed, educated, and well-trained citizen for the betterment of yourself, your family, and your community. We bring instructors and perspective from various tactical and non-tactical backgrounds to do our best to ensure every student is better prepared to make informed decisions. This allows everyone to continue their education to best fit their needs and not the pre-established or pre-defined needs of others. We are equally as excited to work with LEO, military, or motivated people of all backgrounds to reach these goals.
WANT TO HOST A CLASS FOR A GROUP?
Agency class requests available now. Fill out our form to send us a request.
ARTICLES BY JOE
Check our extensive library
of articles by Joe Dawson.
SPECIAL PROJECTS
Check out special projects
designed by Bruiser Industries.
noun [ C ]
informal disapproving
US: /ˈbruː.zɚ/
UK: /ˈbruː.zər/
a big, strong, rough man:
He's an ugly bruiser - I wouldn't like to meet him in a dark alley!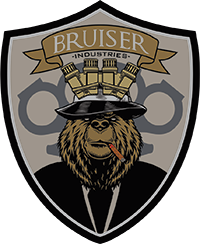 HAVE ANY QUESTIONS?
Send us a message for any class requests or check out our upcoming course schedule to see what's available.