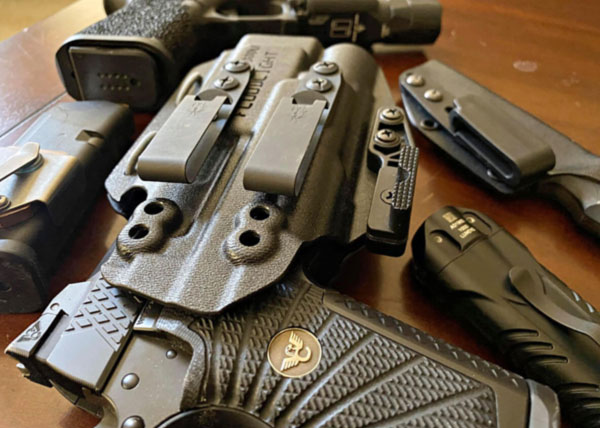 PHLster Floodlight: a Universal Holster Worth Carrying
September 3, 2020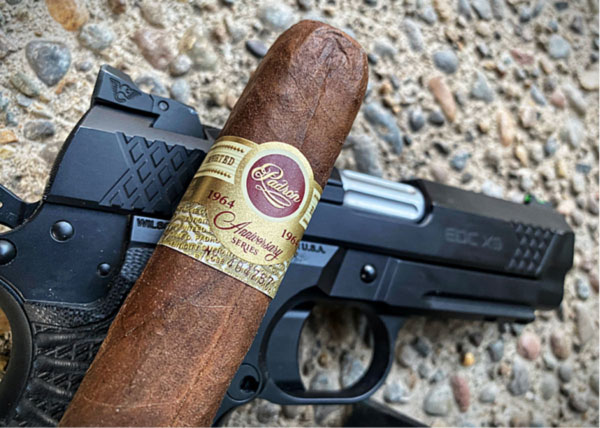 Wilson Combat EDC X9 and Padron 1964: The Finer Things
October 14, 2021
This article originally appeared on GunMag Warehouse.
What does AK stand for? Most of you reading this already know. AK stands for Avtomat Kalashnakova, and what is there to say about it? It's the AK-47! It's arguably the most recognizable weapon profile in the world—emulated and existing in every video game that contains modern weaponry. The AK holds a strong association with communism, terrorism, and cheap Saturday sales at Big 5 since 1947, but the Kalash "shoddy/inexpensive" trope hardly holds true anymore. I recently decided to look into upgrading mine to a modernized AK.
I'm not a newbie to shooting, rifle building, shooting, or the AK necessarily, but my experience with the platform extends mostly to keeping partner force personnel from shooting themselves. The rifles I had to deal with were almost always one of two conditions:
Either magically brand new in some box dropped off by the three-letter bubbas to help teach people to defend their own country, or
Were barely held together barely tape, wire, and a dogged determination to be a rifle (said unwillingness to stop functioning being one reason why the AK has become a byword for reliability – and a benchmark for reliability comparisons).
I never really had the desire to add one to my collection and even less of a desire to spend a large amount of money to upgrade one. To me, they were guns that you left under the backseat of your truck or used to burn steel-cased ammo. The idea of mounting high-end optics, lasers, billet parts, wasn't even on my radar.
The World's Most Popular Assault Rifle
If you ask its purists, the AK is better than the Ar-15, FAL, and 1911. It hates baseball, spits in your bourbon, and smells of vodka and the mother country. All that to say that it's a simple, robust design plays its part in one of the biggest rivalries in all of gun culture: the AR-15 (or American) versus the AK and all that is evil in this world.
It's no wonder that the AK carries such staunch loyalty. From its genesis, designer Mikhael Kalashnikov understood what the Russian soldiers needed and set about to deliver exactly that:
"I was in the hospital, and a soldier in the bed beside me asked: 'Why do our soldiers have only one rifle for two or three of our men, when the Germans have automatics?' So I designed one. I was a soldier, and I created a machine gun for a soldier. It was called an Avtomat Kalashnikova, the automatic weapon of Kalashnikov—AK—and it carried the year of its first manufacture, 1947."
Since then, the weapon has earned a level of respect that is well-stated in the opening monologue of the film Lord of War.
"More commonly known as the AK-47 or Kalashnikov. It's the world's most popular assault rifle. A weapon all fighters love. An elegantly simple nine pound amalgamation of forged steel and plywood. It doesn't break, jam, or overheat. It'll shoot whether it's covered in mud or filled with sand. It's so easy, even a child can use it, and they do. The Soviets put the gun on a coin. Mozambique put it on their flag. Since the end of the Cold War, the Kalashnikov has become the Russian people's greatest export."
American Attitudes toward the AK-47 is Changing
The AR-15 has always been touted as being more modular and easily upgraded. The aftermarket here in the US is enormously stacked in the AR-15's favor. The number of manufacturers of the weapons and accessories outnumbers the old communist workhorse by a factor of 100. Ammunition in the US, up until recently, allowed for the purchase of 5.56 for prices that didn't give the AK the advantage that it currently holds in the most recent ammo scare of 2020.
Until recently, several factors pushed the AK into the background when westerners purchased guns, investing thousands of dollars in upgrades and modernization. The 7.62×39 lacked ballistic performance and accuracy compared to the 5.56. Other factors were the lack of ambidextrous options and overall American snobbery. Recently, however, companies like Meridian Defense, Krebbs, Rifle Dynamics, Arsenal, and a slew of others have been doing their best to change that.
Gathering Ideas for My Modernized AK
COVID hit at the start of 2020, and like most people, I was stuck working from home. I was bored with nowhere to go. In the back of my safe, my lone AK resided, a Russian kit built for me by a friend years ago. It hadn't been shot in nearly a decade.
Like many people, the rise of the AK on Instagram was hard for me to ignore. I thought this may be a good time to see what the AK market looked like and had to offer in 2020.
My AK had some basics done over the years with an Ultimak top rail and a Vltor Weapon systems AR buffer tube adapter. Other than that, it had a wood bottom forend that had been ground to fit, and a pretty standard list of options.
As I browsed the websites and pictures of modernized AK's I was blown away by how the aftermarket had exploded with options. I found page after page of machine shops making various rails, charging handles, optic systems, muzzle brakes, gas blocks, stock adapters, and the list goes on.
Since my personal gun is a 16" barrel, I had no major plans other than to just make it more user-friendly and something I could attend some classes with.
My major complaints with the system were the inability to mount accessories like a light, the safety selector, and optic mounting options.
I'm not an AK expert, but I have been trying these things out and testing them myself. I used other people's builds as a baseline and had multiple conversations with Paul at Meridian Defense about AK building to assist (thanks PauL). This is how this old beater currently sits.
My AK Upgrades
SLR Front Rail/ Gas Tube/ Muzzle Brake
Having the Ultimak already on the gun allowed me to mount an optic in front of the rear sight. The Ultimak replaces the stock gas tube with a billet gas tube with a pic rail its entire length. It uses two billet pieces to clamp under the barrel and makes for a very stable option for optics.
While viewing guns from companies like Meridian Defense I found SLR RIfleworks and their MLOCK handguards. SLR makes handguards for just about every configuration and barrel length imaginable for the AK platform. It was stated that it could work with the Ultimak top rail if you got longer screws that SLR was happy to supply when I ordered the bottom rail. The installation was easy and took less than 20 minutes including my Dremel work to remove the sling loop carefully from the barrel.
The rail is beautifully machined and made from 6061 aluminum. The 14" rail I got is nice and lightweight with 2 QD sling attachment points at the muzzle end of the rail. The rail is hard-coat anodized and the finish is nice and consistent over the whole part. It gives a nice thin grip and allowed me to run my preferred rail covers and mount a Modlite weapon light and Railscales.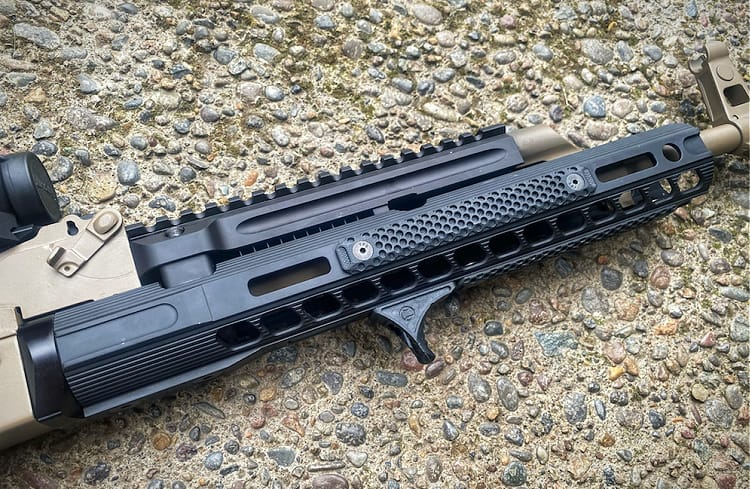 Upon my first range trip, I found that the rail wanted to shift forward. The Ultimak Gas tube sits between the gas block and the receiver and has some "room" forward and backward that isn't an issue with a separate handguard but with the pressure of SLR bottom rail, it would not stay in place. After a short conversation with Paul at Meridian, he advised to just spend the money on the SLR top rail as it is designed specifically to work with their bottom rail and is made to fill that space better between the gas block and receiver. Since swapping to the SLR rail I've had zero issues.
The muzzle brake was an impulse buy. I didn't know the direction I wanted to go and if I would ever suppress this specific rifle. While on the SLR site I saw their Synergy BCF, which is a combo flash hider and muzzle brake. The price was good, so into the cart it went with the bottom rail when I purchased it. The finish is good and it seems to work just fine. I haven't tried an assortment of brakes on this gun to compare against but being an AK it is super simple to swap out at a later time. In comparison to the Vortex flash hider I had on previously, it works well.
Krebs Safety Selector
Next on my list of things to address was the AK selector. The stock one works, and many have become very fast with it. I wanted something more ergonomic and Krebs Custom had just the ticket.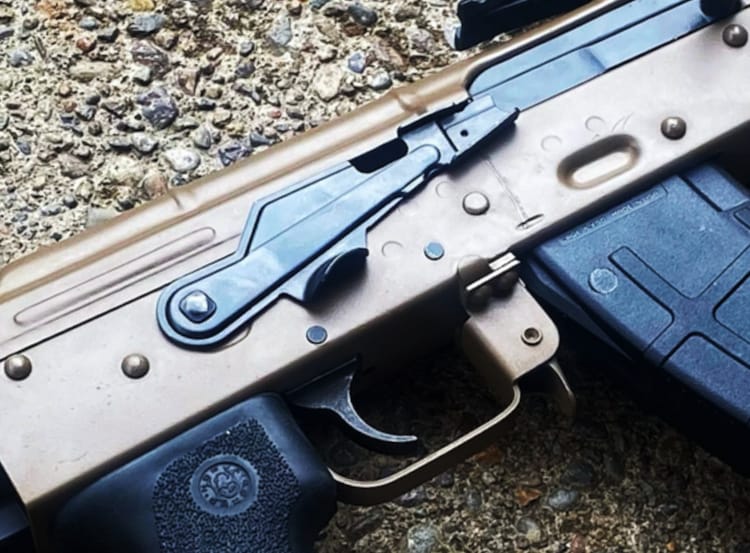 The stock safety requires you to break your grip unless you have fingers able to please the deepest… cavern. Krebs safety selector has an additional shelf that falls just under the first joint on my pointer finger. This allows the shooter to operate the safety without breaking the grip.
The selector also allows for a manual hold open on the bolt with a cutout on the top of the safety. This is convenient for many training classes or range time when you want to clear and show safe, or if you ground the weapon to step away to address targets or other range tasks. This is probably one of the cheapest, yet highest return on investment mods I can recommend on an AK so far. It substantially helps with smoothing out the manual of arms with the AK.
Circle 10 AK SOMAK Optic Mount
The optic mount was a touchy subject for me. I really wanted to try to get a good cowitness of the sights if I could, as well as keep the optic as low as possible. The SLR gas tube allows for a very steady and repeatable place to mount a red dot optic. With modern scout lights and shooting techniques, the standard placement of the activation switch has become on the top of the forend. This allows for an over the top thumb placement which can assist in the management of recoil.
I mounted a Modlight with a Cloud Defensive Surefire tape switch holder at 12 o'clock and found that when gripping to allow for activation of the light, my thumb obscured my vision through the red dot. This bothered me and I started looking at other options. The array of available optic options is actually really impressive.
My specific rifle does not have a side rail attachment so that was not an option for me. There are quite a few hinged top covers that now have pic rail for optic mounting as well, but I had heard of mixed results for holding zero and the cost was more than I wanted to spend at the time. Finally, I came across the Circle 10 SOMAK mount which is a replacement for the rear sight.
The SOMAK is made of 6061 with a 410 steel nut that goes under the sight platform. It is a very nicely machined part and has a "fixed sight" aperture or groove in the front so it is advertised as being able to be used as a back-up iron, though I have not tried this feature personally.
The mount is super easy to install and with a drop of red Loctite on the screw I have had zero issues with the optic base loosening up. It gives just enough height to my optic that when activating the light I have a clear sight picture.
Along with the optic mount, I did add the smallest riser to the Magpul CTR stock on this gun to get my preferred cheek weld. More time and rounds will tell how it holds up long term, but with my current Aimpoint T-1, it works well for my uses.
ALG AK spring
I'm not even going to lie, this mod I did for no other reason than someone said that the ALG spring can assist with how smooth the gun runs.

With how little time I had on an AK to begin with, I had no enormous base of experience to compare against. It was a delicate procedure to swap out without shooting sharp metal objects or springs into my face or across the room but took less than 10 minutes doing it for the first time. The gun runs great and I have had no issues so take it for what it is.
Vltor AR Stock Adapter
There is no other platform with more stock options than the AR-15, it's just a simple gun industry fact. The Vitor AR Stock Adapter was one of the first mods I did to the gun long before this most recent round. There are now a number of other options that have been released since that can give you the ability to run buffer tubes, folding adapters, Sig stock options, etc but since this was on there and hasn't let me down yet it remains. It gives a couple of QD swivels and allows for use of any AR-15 stock. There are only so many ways to be excited about a buffer tube.
Trigger
Finally, the first modification I did to this rifle and its longest-standing is the Tapco G2 trigger.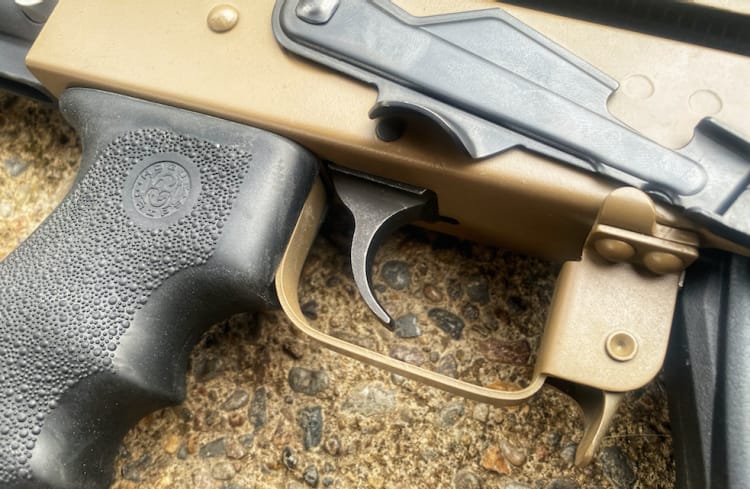 I know the more recent "standard" is the ALG but the Tapco breaks cleanly and hasn't given me any issues. Being my lone AK I haven't made the habit of building another gun just to try one part as I seem to have a tendency to do with AR-15's. That may very quickly change as I become more familiar with the platform.
In Conclusion
This whole journey has been an exercise in keeping an open mind. I would not consider myself someone who is an AR-15 "fanboy", though it is the platform I have the most time with both in and out of service. I do try to be a student of "the gun" and try to keep an open mind on all platforms as there are many places on this planet where the AR-15 is a foreign weapon and platforms such as the AK are hidden under every bed.
The ammo shortage of 2020 has seen calibers such as 9mm and 5.56 double or triple in price, while calibers such as the 7.62×39 have only slightly increased (as of this writing) and give shooters another option to get out and train and enjoy our hobby.
The rifles that used to be able to be had at under 400 dollars in every sporting goods store in the country are rising in value with most high quality "production" guns falling around or above $1,000. Custom and hand-built variants are now upwards of $2-3,000 depending on your choice of options.
The upper end of this world is where my next venture into the AK world is headed with a Meridian Defense "Little Dirty" pistol nearing completion. The AK has done nothing but proven its power to endure and with more companies in the US ramping up to support it, I only expect its popularity to grow.
*Note: The AKM, is a redesigned and upgraded AK47. The M in AKM stands for Modernizirovanniy, which means "modernized." Therefore, it is another modernized AK worth knowing about.