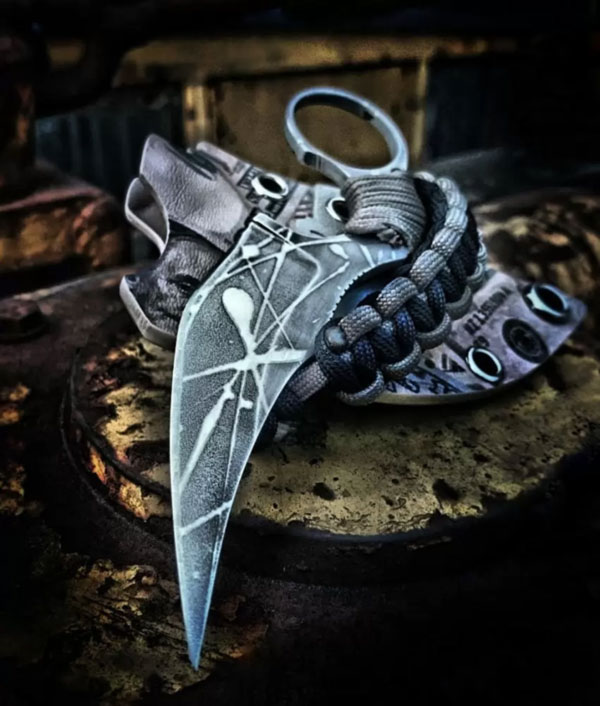 Rey's Bros Blades | MNKF
October 15, 2018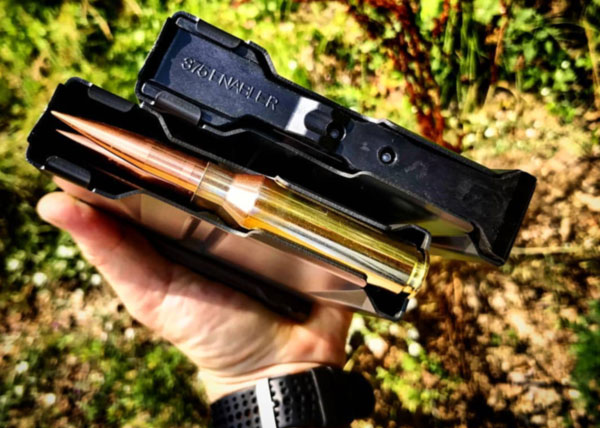 Shooting ELR: Applied Ballistics EnABELR
November 8, 2019
This article originally appeared on Breach Bang-Clear.
BRT Bladeworks – a Small American Business
A Q&A with Knife-maker Ben Tendick
This article originally ran in February 2018.
I'm a bit of a knife nut, but more in a practical way than a collector. I mean that I use my knives and don't have anything that would be considered a "safe queen." Honestly, to each their own, but to me, someone getting a Damascus framing hammer…it just doesn't compute.
I've used, given away or lost more high-end knives than I care to count. I've tried every blade shape imaginable before concluding that a traditional blade shape with a straighter cutting edge just makes sense. The highly curved, S-shape blades look great but are a bastard to sharpen if you don't have the right setup. This thought process is what brought me to being a fan of tantos and Japanese-style blades.
Scrolling through Instagram and Pinterest one day I came across a picture of a small carry tanto. The knife had a wrapped handle with a titanium menuki and a remarkable, subdued acid-etched finish on the blade. It just made sense as a solid daily carry knife, and I had to have one.
That is how I discovered Ben Tendick and BRT Bladeworks.
Ben is headquartered in Eugene, Oregon. There he lives with his wife and three kids and specializes in Japanese style knives. Ben got his start in 2010 and has been making well-made, functional knives ever since. BRT is a one-man shop where everything from blades, handles, and sheaths are done in-house by Ben.
While BRT specializes and offers a lot of Japanese style knives, Ben also designs and makes all kinds of other blade shapes and loves to blend his influences into unique knives. Ben was kind enough to answer some questions for me to explain some of his backstory and ideas about knife making.
Q: What is your favorite style of knife? favorite style to make?
BT: I probably enjoy making modern Japanese style blades the most. Such a natural elegance and no-nonsense design. They are some of the best design utility and fighting knives I know in such a seemingly simple package.
Q: What other knife smiths gave you motivation or did you want to emulate when you were starting?
BT: When I first started I really looked at some different neo-tribal designs and also a lot of the ABS (American Bladesmith Society) guys. At first, I didn't do a lot of "Japanese" pieces because there was a lot of stigma and criticism from guys that said it to be completely traditional or it was just a lazy attempt. Eventually, I decided I didn't really care what these few guys thought and started building "my" knives. Recently, over the last year or two, I have drawn a lot of design cues from the late Phill Hartsfield in regards to my kwaikens and smaller tanto. I have also just recently taken up and Licensed Tom Maringers "Vorpal" fighting knife designs.
Q: How would you describe your style?
BT: My style is constantly changing, but recently I have definitely settled into doing mostly Japanese style pcs and primarily "fighting" or utility knives. In all of them though, my primary focus is the performance and durability of the knife. For me, 75% of that is in the steel and especially the heat treatment of it. I have my process down for my chosen steel types, mostly CPM 3V, which includes digital electronic kilns and Liquid Nitrogen cryo treatment.
Q: Who do you see as your type of customer? Do you like building for collectors, LEO, military?
BT: My customers span the range of safe queen collectors, mil, LEO, and everyday users. My favorite customers are the ones that are using their knives daily. I've been fortunate enough to provide knives/axes for Mil, LEO, and even some Secret service agents. Pretty cool.
Q: Did you learn from anyone or just through trial and error?
BT: I hadn't even stepped foot into another makers shop until well after "I knew what I was doing." I consider myself self-taught but am really a student of the internet age of information. Anything and everything you could want to know about knife making or any other art/craft for that matter are out there. You just have to be willing to spend the many hours every day doing the research and trying it out until you build the skills and knowledge you need for your craft. New makers ask me all the time for shortcuts, very few are willing to commit the time needed to learn the hard way like I did.
A friend of mine ended up ordering and gifting me one of Ben's 5" tantos completely blacked out and acid etched. It came in a Kydex sheath which holds the blade securely and after adding a small leather loop with a button the knife carries really well. The 5" blade is not small and is made for serious work. After using it a bit, the knife is going to get moved to my gun belt and I'm hoping to order one of his smaller carry tantos soon. The fit and finish on the knife are excellent, the epoxy he dips his wrapped handles in holds really well, and the handle offers a ton of grip.
I love a knife that's based on a classic style such as the tanto but made for serious use. The knife is nice and thick and although probably not recommended by Ben, I'm sure the knife could handle being used in tactical or law enforcement situations as a pry bar if needed.
The knife market seems to grow every day and knife makers scramble to find their own style in a sea of other makers. BRT has a style all his own, and his knives stand out with their own unique look blended into functional tools made for hard use. If you're in the market for a new blade for carrying, or to add to a rotation for daily use, I highly recommend you check out BRT Bladeworks and give Ben a call.
For more info you can find BRT online at http://www.brtbladeworks.com, or find him on Instagram at @brtbladworks.