This article originally appeared on Modern Service Weapons.
To most people, a "match trigger" in a AR15 platform belongs on a rifle with a 16 to 22 inch precision barrel. During the course of my career I have shot the normal GI trigger that I was given. During sniper school the precision platform opened up to me, but the desire of a nicer trigger didn't really bleed down to my other carbines until I shot a friend's Geissele trigger a few years ago. I have since tried many "match" triggers of all types and from numerous companies, never really finding something I liked enough to warrant the additional funds.
I shoot a lot of 1911 like most of the other contributors on this site and personally use primarily a flat blade trigger. This preference of a flat trigger has bled down to my bolt guns as well. I learned that Geissele was producing a flat blade trigger and I had to try it, so I ordered 1 of every model ( Super Dynamic 3 gun, Super Dynamic Enhanced, and Super Dynamic Combat).
Geissele Automatics was established in 2004 by Bill Geissele to produce triggers for CMP and NRA High Power Rifle competition. His first trigger, the Hi-Speed National Match quickly proved itself as reliable, high quality trigger, and robust. This reputation of quality garnered the attention of the US military for its use in semi-automatic precision rifles. Gradually Geissele has added more and more models of adjustable and non-adjustable triggers to their line as well as modular rail systems for the AR-15 platform, weapons tools, and triggers for other weapon systems as well.
I will first focus on the Super Dynamic 3 Gun trigger for this review as it's the only single stage of the three, but stand by for more on the other two variations at a later date. The SD-3G is a flat shoe trigger based off their Super 3 Gun (SD-3G) trigger which is a derivative of their Super Select-Fire combat trigger (SSF). I installed two of them in my two primary carbines used for my personal training.
Like all of Geissele's triggers the quality is evident in all models. Included with the trigger is a clear set of directions, trigger pin slave and grease. The machining of the trigger is excellent with no sharp edges or burrs. The face is smooth almost to a polish. The trigger breaks at a crisp 3-4 pounds from my finger weight scale.
The trigger is a non-adjustable single stage and drops in just like any other AR trigger. If new to changing lower parts in your rifle, don't be afraid. There is any number of resources online with video walk-through on most steps of building a AR15. Youtube is an excellent resource as well for AR15 assembly and disassembly.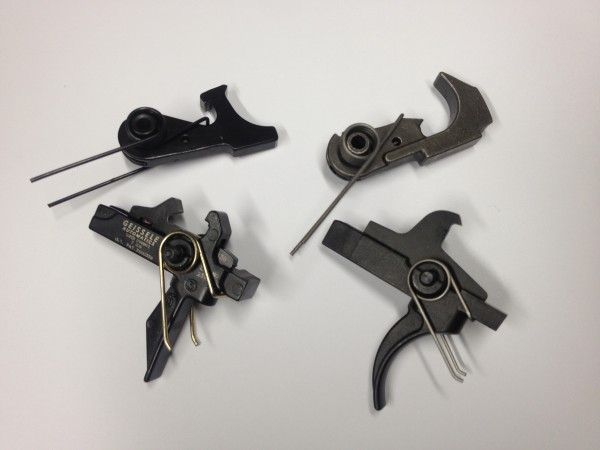 I have had the triggers for about 6-8 months now, teaching for most of it and have put approximately 2,500-3000 rounds per trigger. The trigger from out of the box was really easy to shoot, and gradually got better and better. I can honestly say I won't go back to the ol' GI unless forced to. The SD-3G gives a crisp, consistent trigger break with a really short reset making speed shooting a absolute pleasure. For anyone who is a fan of the flat triggers on their 1911's I highly suggest giving the Geissele Dynamic triggers a run through your AR15 platform rifles.
SOURCE: http://www.geissele.com