This article originally appeared on Modern Service Weapons.
Accuracy International is one of the premier military hard use rifle manufacturers in the world. Known for making no nonsense, purpose built weapons and chassis for bolt action rifles, their AI Arctic Warfare (AW) and AI chassis system shape is one of the distinguishable shapes in the firearms industry. With its square fore end, folding option, and wealth of adjustments its a very capable Mil/LEO bolt-in option for the R700 platform. With that being said their thumb hole design fits some shooters more then others, leaving some to shy away from the design. This is where Michael Victor came in with his design for the Viper Skins in 2010. Victor Company's Viper skins are replacement skins/ stock sides for the AIAW/ AIAE and AI chassis systems replacing the thumbhole with a pistol grip. Other added features to the viper skins are a widened fore end and integrating picatinny rails for additional accessories.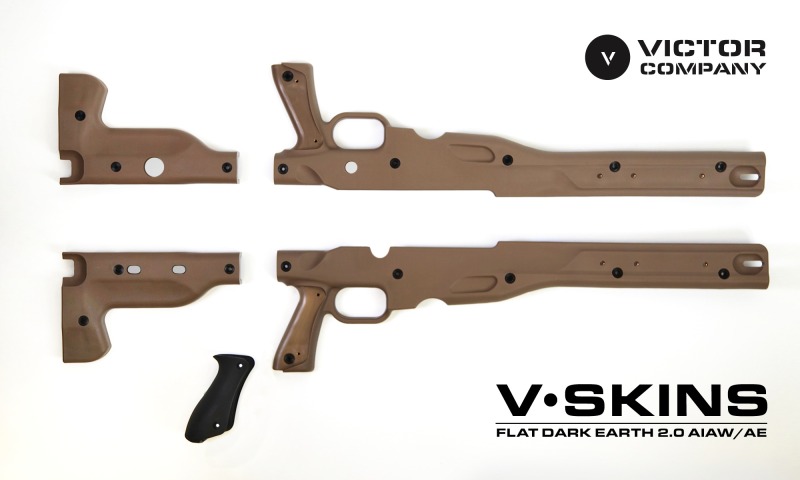 I had the opportunity to run a set on a long action AICS chassis for about a year. I found them every bit as high quality as the factory skins. Replacing the factory skins with the Viper Skins can be done in around 5 minutes using simple allen keys. The pistol grip can be changed between two different size palm swells for different size hands. VictorCo also offers a grippy cheek piece which replaces the hard plastic OEM one which i found a very nice upgrade. The other nice option that comes with the Viper skins is with the pic rails and new sling attachment point at the rear of the chassis. This feature allows you to use quick detach sling swivels which allowed me to use my TAB gear sling from my other rifles without hassling with changing the adjustments in the sling.

Viper Skins are offered in different colors as well as dips. This AIAW wears a multi-cam set of skins.
Overall I was very impressed with the overall fit and function of the skins. It is obvious that a lot of care and thought went into their design to cover as many complaints about the OEM stock sides as possible. If you are a military, competition or law enforcement shooter who has never been a fan of the thumbhole stocks these are a great option allowing you to use the extremely high quality AI Chassis and rifles.
For AI chassis or rifle purchases please visit the good people at:
http://milehighshooting.com/MHSA/Mile_High_Shooting_Accessories.html
For the Victor Company Viper skins: