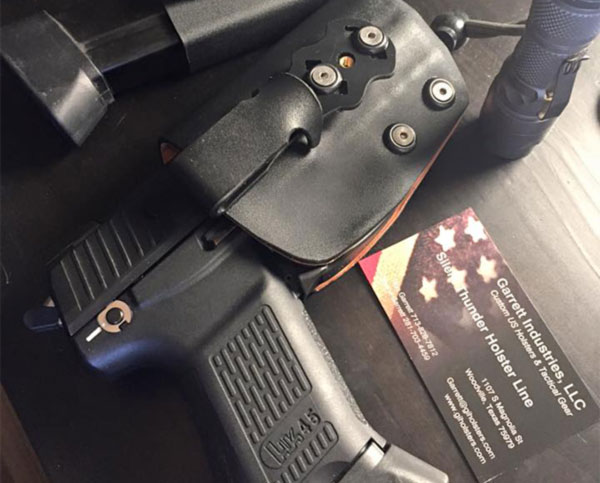 Garrett Industries Silent Thunder Holster
December 28, 2015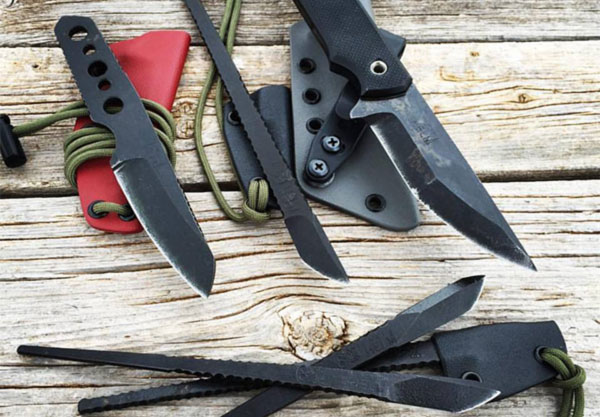 Sharp Things: Knife Makers to Watch
January 7, 2016
This article originally appeared on Modern Service Weapons
Its hard to argue the fact that the Sig Sauer P-series pistols are some of the best combat pistols every produced. Putting the argument or preference aside of double action/single action versus current current striker fired pistols or single action only the reliability and accuracy is well known and respected around the world. With a vast majority of the pistol rounds I've sent downrange being out of a p226, I had to have one in the safe. The trigger and action on the sig are designed for reliability, not necessarily a light or crisp trigger pull so I decided to upgrade my personal gun a bit. I made the obvious decision and went to the first and really only serious name in Sig Sauer action work, Bruce Gray of Gray Guns.
Bruce Gray started in the gunsmith trade over 40 years ago. Initially he decided to focus on the premier combat pistols of the time; the 1911, P35, and double action service revolvers. Establishing quite the reputation for high end custom pistol builds. Incorporating Gray guns in 2004 Bruce decided to try to expand the business. Being a long time competitive shooter, having shot for both Sig Sauer and HK factory teams, Bruce decided to focus on HK and Sig pistols. With his previous relationships with the companies and his background in competition, Bruce quickly became the "go-to" shop for serious, reliable, repeatable trigger and action work. Based out of Spray, Oregon his shop prototypes and test products and upgrades for Sig and HK pistols through active competition supporting team Sig Sauer on the local, national and international level.
My personal Sig Sauer I decided to send him was a standard MK25 p226, based off the same pistol that Naval Special Warfare is issued as their primary sidearm. With only minimal rounds through it, it was packaged up and made the journey to the pistol spa of Bruce's shop. Throughout its time there, Bruce or his staff were always quick to respond to my inquiries about status, timeline, etc. My pistol was sadly lost in the shuffle for a extended period of time, to which they were overly apologetic for. Extended wait times are not something outside the norm with any custom pistol work and the manner in which the gunsmith deals with their customer through unforeseen problems truly shows their professionalism. I can say, without hesitation Bruce's world class reputation remains intact through my interaction with him and his people. My pistol arrived to my excitement and I like any good gun dork had to break it down to see what I could find internally that he had done.
Upon initial breakdown, there are a lot of little things that stick out about the Gray Guns MK25. The gun looks completely stock from the exterior. The polishing of most of the contact surfaces and feed ramp are immediately evident. Giving a indication of the time and care spent on the pistol.
I got the competition package which includes all the normal things their duty package includes but with their competition spring set. It includes the Gray Guns proprietary hammer and trigger made to their specifications that look exactly like the OEM parts. All internal parts are refinished if they had any work done to them, limiting any rust down the road.
Dry firing the pistol in comparison to the stock p226, the double action on the Grayguns P226 is buttery smooth. All grinding or stutter in the triggers travel is gone with a nice clean break at the end, reset is much shorter as well. The single action is now one of the nicest triggers I've had on a pistol, without a trigger gauge I would venture to say around three pounds. Waiting to finally get the range like a kid with a new bike, I found a friend with a stock p226 and we loaded up a couple thousand rounds and headed for a few days on the range to see if Gray Guns' action work met my expectations.
I managed to put approximately a thousand rounds through the gun in four days, the gun was a joy to shoot. The biggest complaint about a double action/single action gun is the initial double action trigger pull. Even with the length of the pull Gray Guns managed to make it as smooth and clean as humanly possible, it is now a vast difference from the factory p226 we had with us and from the pistol before I sent it. Follow up single action shots are super crisp and light making the gun much easier to shoot quickly. Being an all steel gun already the slide to frame fit and feel of the gun feels much closer to a well worked over 1911 than a service pistol which is a good thing. I experienced zero malfunctions of any kind and I am truly impressed with what they were able to manage out of this warhorse of a pistol.
Without a bunch of fancy, needless machining, gold coated parts, and the support of a multi-cam clad tattoo'd commando gray guns is turning out modifications and parts made for function over form. Tested on the range through thousands of rounds rather then Instagram followers the gun is a true testament to spending money where it counts. When I initially sent in this MK25 I also sent in an HK45c which I am now anxious to put some rounds through as well. I can say I look forward to further business with Gray Guns and sending more pistols their way for what I know will be reliable well done pistol work I can bet my life on.
For more information: http://grayguns.com