This article originally appeared on Modern Service Weapons
The AR15 is not a new magical weapon platform.  Though the industry may want you to think there have been huge improvements and groundbreaking advancements every year at SHOT, that is simply not the case. Aside from fancy materials and making the magazine release or slide stop accessible from 12 new locations, nothing really new is happening.
About anyone can assemble one in their garage is about an hour with some basic tools.
The equation has long been figured out when it comes to the gas system length, gas port size, and buffer weight necessary for a reliable gun with very low felt recoil. While new muzzle brakes seem to come out every few months with a new look, companies are still just burrowing port angles from others or muzzle brake types seen on old Russian AK's (or more obscure weapons).
This all to say that the industry will have you believe that you still need to spend 1500 to 2000 dollars to have a good working carbine that can be used and abused. That is just not the case. Reliable guns that are just as functionally capable as anything out there can be found from various manufacturers for 1,000 dollars or less. Radical Firearms does just that. They offer affordable rifles that work without all the fluff, and offer them without breaking the bank.
Radical is a Title II NFA Gun manufacturer and retail operation based out of Stafford, Texas. Starting as a small shop who assembled AR15's for customers, they decided to buy some CNC machines to try to make their own parts with better tolerances than those they were buying from other manufacturers. Buying one machine led to buying more, which allowed them to make more parts in house, bringing the cost down on their rifles while maintaining their level of quality. Radical now manufacturers all major components except for: barrels, bolt carrier groups, stocks, lower parts kits and other springs and pins. They assemble and offer complete AR15 and AR10 rifles and pistols in various calibers, all backed by a lifetime warranty.
I was approached by Radical Firearms to literally beat on one of their 16-inch Blue Line rifles. My specific instructions were to "…shoot a few thousands rounds through it, beat on it and let us know how it does"." Well, you don't have to threaten me with a good time on a gun that isn't mine and give me the opportunity to write about it.
Like anyone, I did my research and looked online for reviews, YouTube videos and any other information I could get on the company prior to receiving the rifle. It won't take anyone long to find mixed reviews on the quality of their products. Some videos or reviews claimed loose gas blocks or improperly staked castle nuts. Some people had triggers go bad. While there were plenty of others who had bought a gun from Radical and had no issues at all. I decided to go in with an open mind and only comment and judge the company by what I received and how it performed.
After some emails, and a couple weeks the rifle showed up on my local FFL.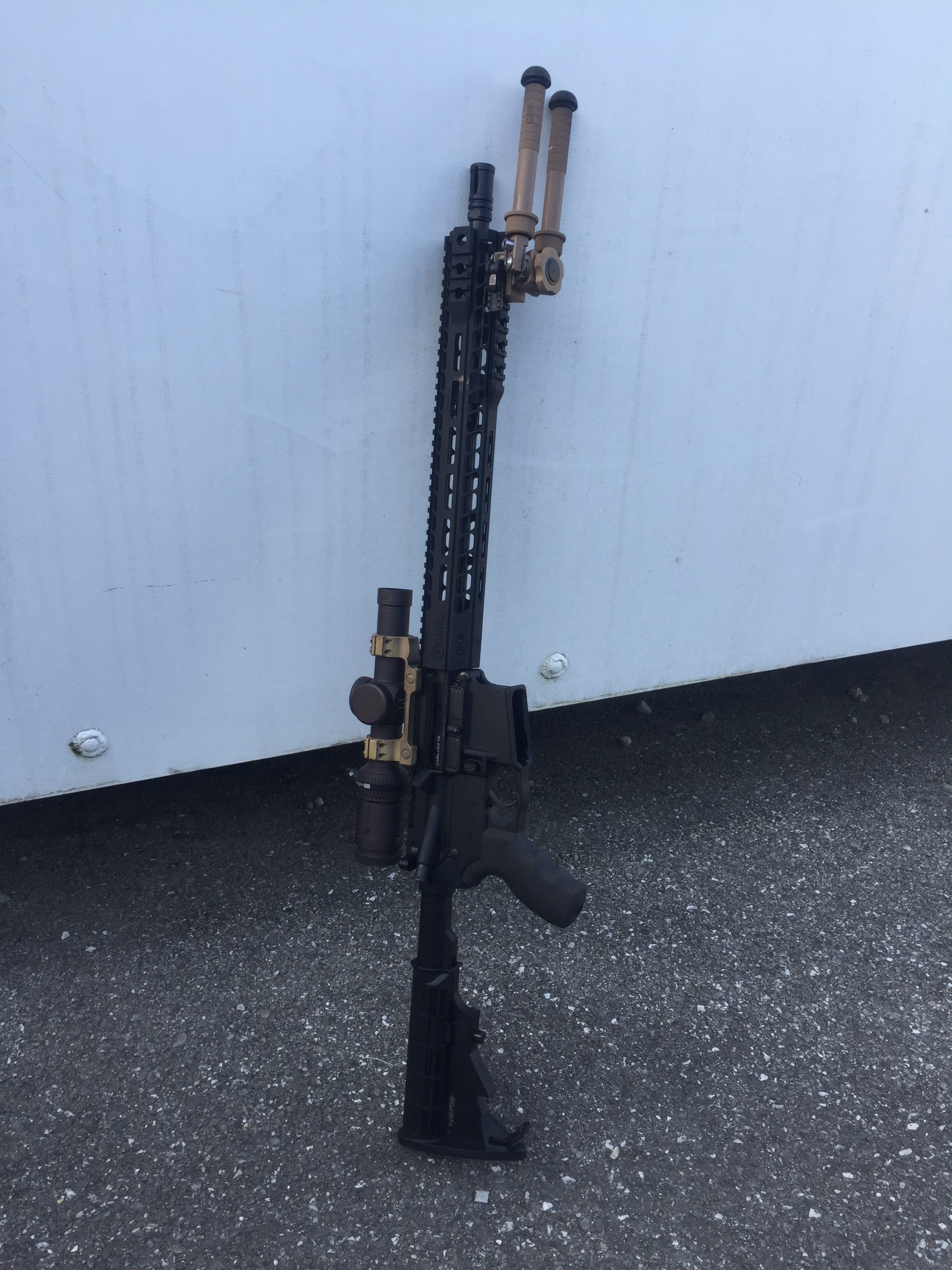 RF 16" 5.56 "Blue Line" Complete Rifle with FHR
16″ 5.56 Melonite Barrel 4150V Chromoly
1 in 7″ twist rate
5.56 Chamber with M4 Feed Ramps
1/2×28 Thread Pitch
M-16 Milspec HPT/MPI Bolt Carrier Group – Melonite Finish
Pinned Low Profile Micro Gas Block
Stainless Steel Mid-Length Gas System
Direct Gas Impingement
Mil-Spec A2 Flash Hider
15″ FHR Keymod Free Float Rail
Quad Picatinny Rails on the Fore-end for Mounting Lights, Lasers, Bipods & Sights
Forged Upper Receiver with Forward Assist and Case Deflector
Forged Radical Firearms Law Enforcement Lower Receiver
Mil-Spec Lower Parts Kit
Over Molded Grip
Magpul CTR Collapsible Stock
Magazine
The regular price for the rifle I received is listed on their website as $1,049 dollars with special pricing offered to LEO and military. The Blue Line rifle offers options such as a freefloat barrel, slim rail system, muzzle brake, and MPI bolt carrier. Offers all the basics with no crazy frills. The gun is solid with no rattle anywhere. The castle nut was staked properly, all bolts and screws were tight and the gas block was tight and pinned properly. The upper and lower fit was acceptable and I couldn't find any huge complaints about fit and finish. Now the rifle was not going to win any finish awards against higher end CNC'd uppers and lowers that cost twice as much but it was solidly built with no huge flaws.
First 1,000 rounds:
I quickly mounted a Vortex 1-6 Razor on the rifle and headed out to get rounds down range. I lightly lubed the bolt carrier, ran a bore snake through the barrel and settled in to zero. Using some standard 55 grain ball ammunition, the rifle grouped well at 100 meters and kept all impacts in or touching a 1" dot. After a quick true on a 600m 40" E-type, we spent most of a day moving between various size steel targets from 200-800 meters. With just a standard GI trigger and the little Vortex 1-6, the carbine easily engaged targets between 1-600 reliably and was able to hit targets between 6-800 consistently with good wind calls. Over the course of 2-3 days we expended 1,000 rounds of ammunition with no maintenance of any type other than to add some lube to the bolt carrier every 200-250 rounds. We experienced zero malfunctions of any type and the little rifle just kept on running.
Second 1,000 rounds:
After the distance test and first 1,000 rounds, I made a couple small changes to the rifle. I swapped the standard trigger for a KE Arms drop in and 45 degree selector (long term review to come soon). Other than those changes I added a set of back up iron sights and a Vortex Razor red dot and we headed to the 25m range for more carbine type work and speed drills. We did not clean the gun and just added some more lube to the bolt carrier. Working through another 1,000 rounds over two days, following a similar lubrication regimen we experienced zero malfunctions and the rifle continued to prove reliable even with over 1,000 rounds without cleaning.
Last 500 rounds:
After all this, and the fact that I wanted to see if we could break it. We loaded up 30 and 40 round Magpul magazines and started doing mag dumps and other higher round courses of fire. Yet again, the Radical Blue Line proved reliable with zero malfunctions and it made it to end of 2,500 rounds with zero cleaning.
Reading through reviews online and watching multiple videos on YouTube prior to testing this rifle I was honestly expecting something to happen. It's hard to not get caught up in online drama where one properly motivated individual can make a product or company seem riddled with problems. I tried to come at this review as objectively as possible and judge the rifle on its own merits.
All Radical Firearms are covered by a limited lifetime warranty on all the products they make, and they offer a military and law enforcement discount on their entire line
Over 2,500 rounds, the little Blue Line rifle proved reliable, and accurate. I would recommend it to anyone looking for a reasonably priced carbine for duty, training, or competition. It's hard not to enjoy the fancy new lines of a high-end billet AR with fancy anodizing or space age materials, but if you are on a limited budget your money would be better spent on a good rifle that meets your specific needs. Then go and spend the rest on ammo or a good carbine class to learn how to use it.
Find more information on this and other Radical Firearms on their website, http://www.radicalfirearms.com