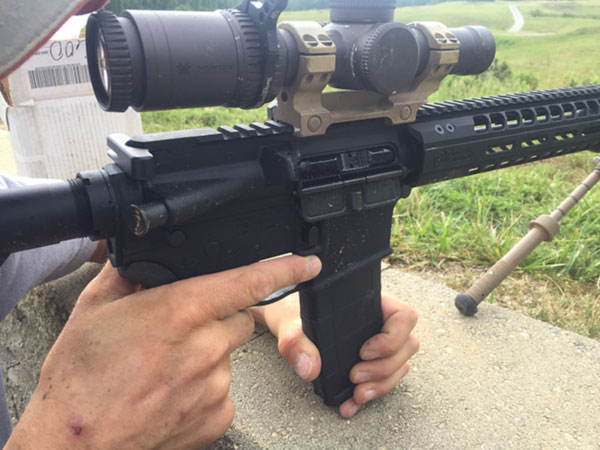 Radical Firearms Blue Line AR15
January 8, 2018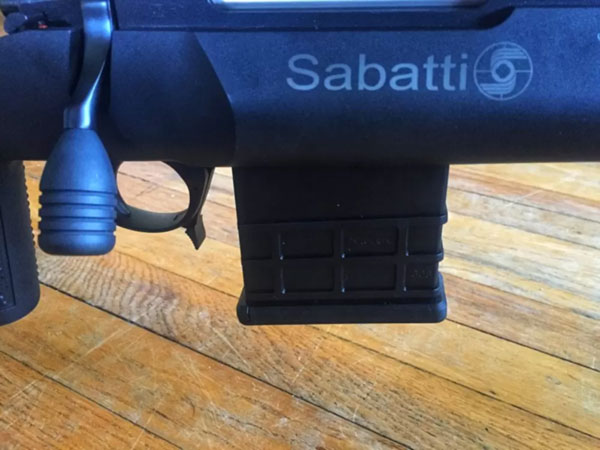 EYES ON | Sabatti Rover Tactical .308
June 7, 2018
This article originally appeared on Breach Bang Clear.
It's not a bad time to be a gun enthusiast in our industry. The recently infamous (again) AR15 rifle (or as we like to call it, adult Lego set) has never been more modular or given shooters more options for parts and accessories. Every company is seemingly content to carry on in rodomontade about their "new" geometry, space-age coating, or otherwise remanufacturing the same parts as everyone else. Designing something new for the platform takes engineering and testing, not just some quick CAD work and to push print. While the pretty CNC work and anodizing may help aesthetically, two parts in any AR15 genuinely affect performance more than any other; the trigger and the barrel.
Happily, KE Arms set out to improve the trigger. They have addressed of the few shortfalls of what was available on the market with their SLT-1 trigger.
Grunts: rodomontade.
Released the beginning of last year, I was able to get my hands on one and have been shooting it in a Radical Firearms test gun ever since. I'm not typically one to post a "review" without actually putting some hard use on something, so I've been working on this for a while. In fact, KE Arms has since released newer version of the trigger, but I can still pass on how the SLT1 performed over the past year.
KE Arms outlines the benefits and features of the SLT-1 trigger as;
"EFFICIENT ENERGY TRANSFER
– There is no disconnector for the hammer to drive through, thus creating a more efficient cycle of the bolt simply pushing the hammer out of the way as the gun fires.
– Forces of the bolt on the hammer are not transmitted into any other components of the trigger assembly.
– Constant sear engagement against the hammer means the trigger is always ready to reset and fire.
IMPROVED SAFETY
Due to the unique geometry of the trigger, the safety can always be applied regardless of the hammer being down or cocked. When used appropriately this adds another level of safety to administrative handling and clearing of malfunctions.
IMPROVED RELIABILITY
Moving parts are sealed in the underside of the housing making it less susceptible to fouling and debris.
IMPROVED LONGEVITY
No impact on moving internal parts increases the longevity of the trigger system.
ANY CALIBER
The SLT-1 has been tested thoroughly with traditional AR calibers and pistol caliber blowback systems. It has also been tested in the Sig Sauer MPX with no damage.
What makes the KE Arms trigger tick:
Inner workings of the trigger:
The SLT-1 is based around a similar concept to the trigger found in the HK416. Out of the box, the trigger is very nicely machined. Looking it over outside of a gun there is obvious care and attention taken in making a high-quality part. The installation is easy enough, pushing the trigger into the lower as to depress to the two springs on the bottom of the trigger and align the trigger pin holes.
Just as KE Arms explains, there is very little of the inner workings of the trigger exposed from the top. This is a benefit in direct impingement AR's that tend to get much more fouling, which can affect trigger performance and feel.
The trigger has a nice and dependable trigger pull right around 4 pounds as advertised. The reset is short and crisp which makes for a gratifying shooting experience. There is minimal creep and overall the trigger feels extremely nice I would not say it is necessarily a "match" trigger for a precision rifle. Rather it's much more of a three gun or carbine style trigger. KE Arms does make a DMR trigger for that application if you are looking for a more precision-rifle based trigger setup (I have not tried that one yet, but will).
We did rotate through optics on the rifle with the SLT1, and for a period of time ran a 1-6 Vortex Gen 2 Razor. During that period, we shot out to 600-800 meters and, the trigger is crisp and consistent enough for that type of use if needed.
I installed the trigger in a Radical Firearms Blue Line rifle I tested for an article on Modern Service Weapons (find that here). The rifle was shot initially with a Vortex 1-6 Gen 2 razor at varying distances fairly slowly. This was followed by 1,000 rounds guided by a Vortex red dot doing various carbine drills. Finally, 500 rounds were fired as fast as we could load magazines and pull the trigger. There was no cleaning of any kind, and the trigger continued to perform even though it was treated like the village bicycle and let everyone get a ride. Over the next six months, the trigger continued to see use in multiple carbine classes and saw another 2,500 rounds in two different rifles with zero issues.
One of the most significant benefits I found with the trigger was its ability to be put on safe even with the hammer released and bolt forward. When clearing a malfunction or having to mortar a gun to fix a problem that little extra safety is a nice feature. The trigger performed flawlessly, and I have no real gripes with it. It is as advertised and makes a great three gun or carbine trigger. I look forward to the opportunity for some trigger time on the new flat trigger version they recently released, called the SLT-2.
For more information on KE-Arms and their trigger visit them at http://www.kearms.com.
For more information on Radical Firearms and their blue line rifle visit them at http://www.radicalfirearms.com.
Finally, for more information on Vortex Optics and their line of scopes and red dots, please visit them online.
Read the "Eyes On" piece for the SLT-1 by David "Norseman" Williams here.