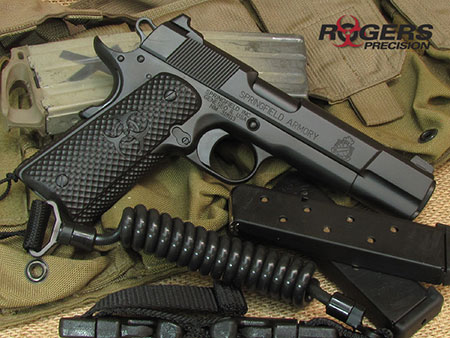 Rogers Precision 1911
June 23, 2014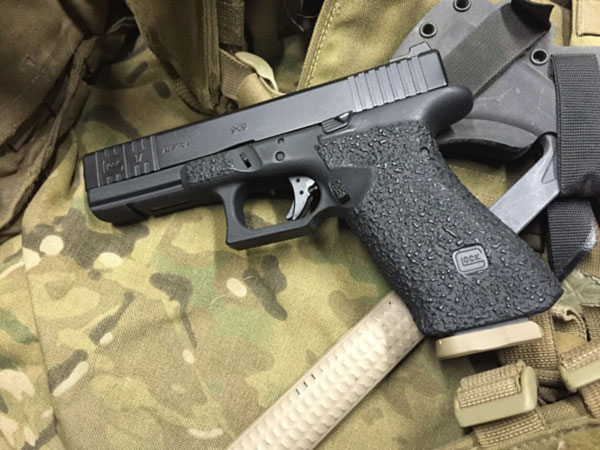 Robar to the Glock Rescue
April 14, 2015
This article originally appeared on Modern Service Weapons
If you have more than a couple rounds down the barrel of the AR15 platform, you should know the system works but isn't necessarily the cleanest. For anyone who actually shoots their gun instead of keeping it clean and pretty, the cleaning of the bolt carrier group in particular is always a fan favorite. Your choices are to soak it in solvent of some type of spend a good amount of time with a scraper of some type trying to break through the layer of fossilized carbon built up around the gas rings on the bolt. This is where aftermarket finishes and treatments have come into play in recent years in an effort to battle the carbon buildup. I have never been a fan of the flashy silver bolt carriers shining through the ejection port of a AR. I made a habit of writing them off as flash as my AR's had always run just fine without them.
A friend had a 1911 coated in NP3 done by Robar guns and after hearing him rave about it more then once, I had to see what the fuss was about. Robar is not a new kid on the block and has been building custom guns and developing new surface treatments for years. I have known Freddie Blish, the general manager of Robar for a few years now. I contacted Freddie to get more information on the process involved and what NP3 really was. Their website explains it as:
Robar's® NP3® finish is an electroless nickel-based finish for steel, stainless steel and aluminum alloys that co-deposits sub-micron particles of PTFE (polytetrafluoroethylene), otherwise known as Teflon™, with electroless nickel.
The quick and easy explanation is its matte silver, can be coated to most metal gun parts and supposedly it helps with rust and carbon build-up. This sounded too good to be true, and I told him so. He offered me a challenge to send him one of the nastiest bolt carrier groups I had, have it coated and see what it would do in the all the salt water, sandy, high round scenarios I could find and then report back with a no BS report and I had every intention of doing just that.
I pulled the nastiest, dirtiest bolt carrier group I could find and sent it off to Robar and a couple weeks later I had it back in hand. The coating is not chrome, it looks like a bolt carrier group would look straight out of a CNC machine before it gets treated. They had coated every part and replaced my gas rings. I then put it to work, over the last eight months it has seen thousands of rounds of ball and blank, it has seen salt water, been covered in the fine moon dust sand of the desert and been coated black with carbon after extremely high round count days. The bolt carrier group hasn't even flinched.
It is much easier to clean and usually just takes a rag to get the carbon off the bolt. The bolt carrier hasn't rusted, or even thought about it and truly has stood up to anything I could give it. Its nothing fancy, its not a super ridiculous CNC'd lightweight magical bolt carrier. It isn't made of titanium, before it left it was sitting in the bottom of my spare parts box on its way out. For the price Robar charges for the coating, I do believe it is one of the most overlooked value upgrades on the market as far as enhancing your AR15. I look forward to more use out of this bolt and carrier and will update if there is anything else to report although all I see is continued use and many more rounds.
Link: Robar Industries