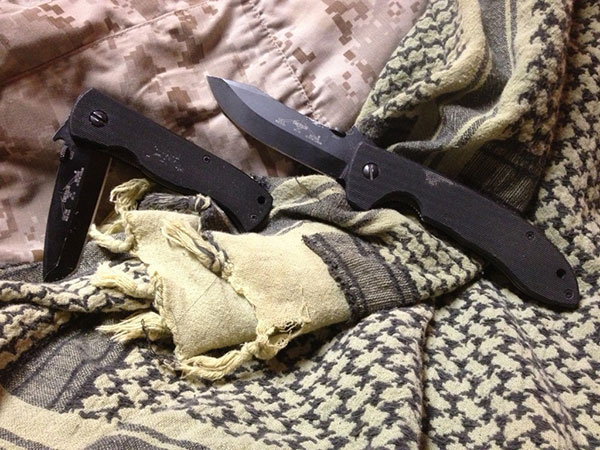 Emerson Knives
September 30, 2013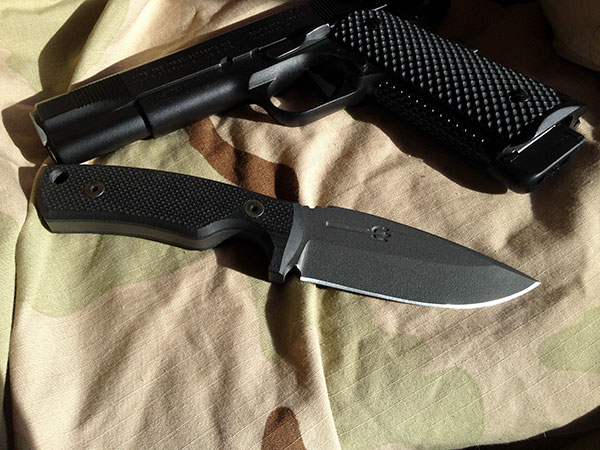 Rustick Knives
December 13, 2013
This article originally appeared on Modern Service Weapons.
The amazing thing about the firearms industry currently is the vast array of options a person has to modify his/her weapon to their tastes or preferences. This variety is not limited to the adult Lego® of the firearms world, the AR15. There is now also a great market of accessories and options for precision bolt action rifles that's growing rapidly. The biggest mistake I see many new shooters make with their first bolt action rifle purchase is making the assumption that all rifle stocks or chassis will fit everyone. This is sadly not the case. Each individual shooter's length of pull, cheek structure, hand size, forearm length, and a number of other factors play into each shooter's fit to a stock. There is always someone more than willing to tell any new shooter that the stock or chassis that they have is the only way to go. More often than not I watch online as shooters go from a stock to a chassis and back, continuously buying and selling stocks until they finally settle on one that is comfortable for them and fits their shooting style.
Growing up in this sport on a Remington 700 with an Accuracy International chassis I was drawn to thumbhole type stocks as I find them easy to shoot weak or strong hand. They give me a similar grip angle to an AR15 with a vertical angle. Approximately 5-6 years ago I stumbled upon a picture of the KMW L.R.S. SENTINEL™ stock. You cannot mistake a SENTINEL™ for any other stock on the market as their shape is as identifiable as a Accuracy International. Eventually finding my way behind one for some trigger time, I quickly realized how ergonomic and well it fit my shooting style. After some pinching of pennies and some conversations with George Gardner (owner of G.A. Precision Rifles), I had a 260 Remington rifle in a SENTINEL™ stock of my own, shortly followed by a second in 6mm Creedmoor as I realized how much I liked the stock.
Terry Cross and his company KMW Long Range Solutions are not newcomers to the tactical precision market. Terry has been building rifles since 1987 and shooting competitively since 1978. Terry is also a reserve deputy for a local law enforcement agency, bringing this real world experience along with his competitive background into his rifle building and design. KMW is pretty much Terry and his tools, a one man shop. Every interaction I've ever had with Terry, whether it was an email to ask a question or talking at a rifle match has solidified my high respect for the man. You would be hard pressed to find a person more dedicated to the production of purpose built, extremely accurate, hard use weapons. Many of his rifles currently being employed by law enforcement agencies across the United States.
The SENTINEL™ stock was a 6 year project designed and developed by Terry with inputs from top competition shooters as well as Law Enforcement from departments across the country. The stock has received a small update bringing us to the Gen II version currently on the market.
"Approximately 3 years ago, the basic shape was refined slightly and the Gen II versions of this stock started to ship. There were several small changes made to the stock with the most visible being the smaller cheek piece with molded in groove on each side and the rear of the stock being molded in the exact shape needed to accompany the new L.O.P. system and pad I wanted but couldn't achieve on the Gen I stocks." – Terry Cross
KMW works with McMillan Fiberglass Stocks to produce the SENTINEL™ in any number of colors and molded in camo patterns. The raw stocks are made at McMillan and then shipped to KMW where all hardware and accessories are installed. This includes KMW's Length of Pull (L.O.P.) system and pad, the adjustable cheek piece hardware, the convertible bipod station hardware, the flush cup hardpoints, and if elected by the customer the Integrated Mounting Block and/or MUNSter Night Vision Mount. Like the Accuracy International chassis/rifles the SENTINEL is truly ambidextrous with all curves, grips and lines being exactly the same on both sides. The stock's most obvious feature is the unique thumbhole design. The grips design is meant to be a compromise between the popular A5 style grip and the AI Chassis system to accommodate the widest range of users. For me I find the ambidextrous lines on both sides of the grip one of the best features allowing the same feel regardless of shooting weak or strong hand. The design and spacing in regards to the trigger allows the pad of my finger to fall exactly where it needs to be without having to rethink my grip or move my hand. My trigger squeeze is nice and consistent every time I grasp the rifle. The design and position of the grip in regards to trigger, bolt handle and magazine is meant to make any operation intuitive while focusing efficiency of movement. KMW's bottom metal and chassis system are specifically designed for use with the SENTINEL™ stock, allowing the use of Accuracy International's popular O.E.M. magazine (1 of which is included with each stock). The magazine release is found on the side of the bottom metal easily accessible with the trigger finger or offhand depending on your style of magazine change.
Included in KMW's design are some very unique features not regularly seen on most traditional stocks. The forend of the SENTINEL™ is very low profile allowing the rifle to rest lower on barricades helping with recoil management when shooting supported. The forend is also molded specifically to fit Harris's well knows S-Series bipods. Included with every stock is a billet sling attachment point as well as picatinny rail to give you a wide array of options for bipod mounting. With the simple twist of an allen key you can change your mounting method. This for me is nice because depending on what kind of shooting I'm doing I can swap between my Atlas and Harris bipods quickly and effortlessly. The angled portion before the magwell I also found well designed and comfortable when shooting slung up offhand.
Every SENTINEL™ stock includes other Terry Cross designed features such as his LoggerHead adjustable cheek piece hardware. It's never a good feeling when you go to shoulder your rifle with a proper cheek weld and you're staring at the back of your bolt or the bottom of your rings because your cheek piece has come loose. The LoggerHead hardware won't vibrate lose while shooting or transporting the gun, giving you peace of mind that you'll always have a proper sight picture. His hardware also allows shooters to maintain their stock adjustments easily while removing and replacing the cheek piece as well.
All metal parts to the Sentinel are machined from 6061 Aluminum, 7075-T6 Aluminum and Stainless Steel. Every surface is matte black anodized and all stainless components are Chrome Sulphide treated for low visual signature and maximum wear resistance. Current SENTINEL™ stocks include new Gen II Limited Rotation flush mounted sling hardpoints in 5 locations along the stock allowing for any number of sling configurations. KMW L.O.P. Spacer System and Pachmayr D550 pad is standard on all stocks allowing for adjustment from 12.7″ to 14.3″. The average weight of a stock is around 5lbs+/- if you add a NV mount or the internal chassis system.
Terry went out of his way to not just replicate another standard stock with minor adjustments to call his own. The quality and attention to detail is evident in every SENTINEL™. The position of each key feature has been thoroughly thought out, and as you get more and more time behind the gun you come to realize how truly well designed it is. He pioneered a unique and highly practical stock design specifically addressing tactical precision shooting both for LEO/MIL and competitions. While not everyone will find a thumbhole stock to their liking, I ultimately suggest if possible getting behind a KMW SENTINEL™ for a few rounds and see what you think as you're likely to NOT be disappointed. Terry has recently stopped taking in fully custom orders on rifles and now makes batches of guns built to his ever demanding tolerances in the most popular calibers. KMW guns are regularly built off of Surgeon and Badger billet actions assuring the utmost quality. His stocks and rifles have built up quite a reputation within the tactical precision world so if you decide they are for you, be prepared to wait. In my opinion the wait is well worth it, with already owning two sentinel stocked builds I will soon be restocking a couple more of my bolt guns as stocks become available.
For more info and to order visit: http://kmwlrs.com